We look forward to welcoming you to this year's GSAIS Conference, to be held from November 4th-6th 2022 at the University of Toronto.
No registration needed. Everyone is welcome. Please note that room capacity may be limited.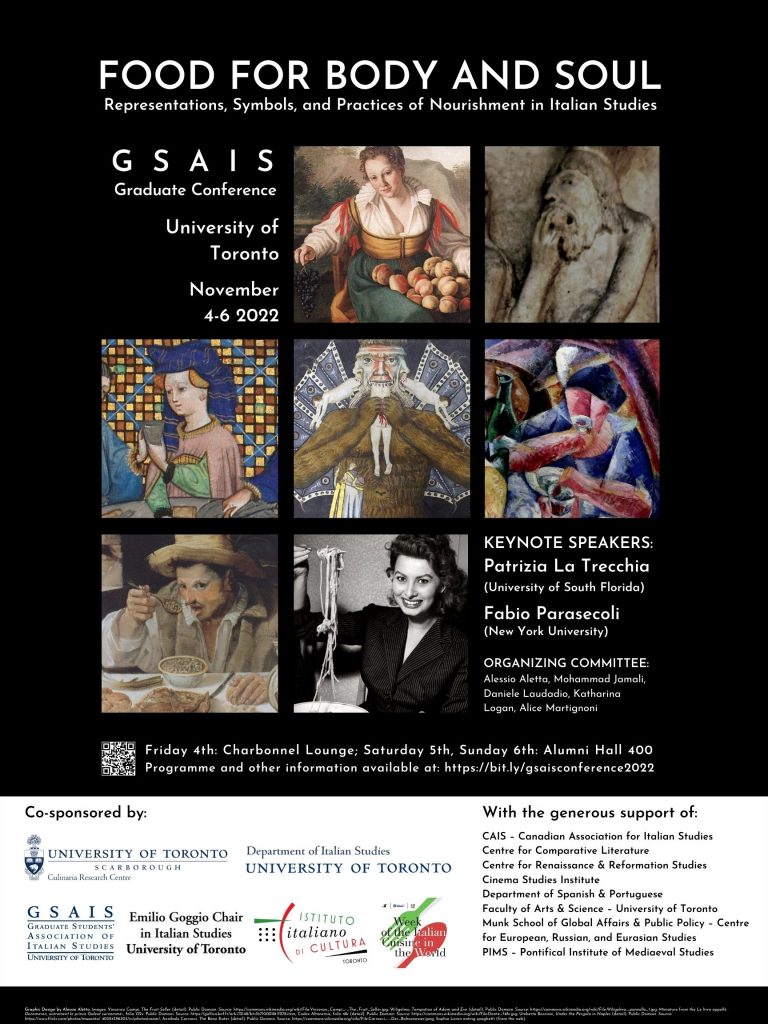 "Food for Body and Soul: Representations, Symbols, and Practices of Nourishment in Italian Studies" / "Cibo per il corpo, cibo per lo spirito: rappresentazioni, simboli e pratiche del nutrimento nell'italianistica"
The centrality of food in defining individual and collective identity is well-established by the field research on the topic. Among others, Claude Fischler makes a note of this in the opening of his seminal essay "Food, Self and Identity":
Food is central to our sense of identity. The way any given group eats helps it assert its diversity, hierarchy and organization […]. Food is also central to individual identity, in that any given human individual is constructed, biologically, psychologically and socially by the food he/she chooses to incorporate.

(1988: 275)
Such an association seems especially cogent in Italy's case: the food-Italian identity nexus distinctly manifests itself within the national territory, in Italian diasporic communities and, generally, in the global perception of italianità. In recent years, transdisciplinary cultural studies have further explored said connections. Critical categories like citizenship, gender, race, empire, among many, show that concepts of tradition and authenticity are socially and historically contingent.
Food has occupied and continues to occupy a crucial role in Italian culture, nourishing the forms and contents of its artistic and literary tradition: from Dante's Convivio to Igiaba Scego's "Salsicce," from Arcimboldo to La grande abbuffata, from medieval recipe books to cooking shows. Precisely by this polysemy, food transcends a purely material dimension to assume an abstract definition of 'nourishment.' This inherent duplicity recalls the late Latin etymological overlap between sapore, "flavour" (< sapĕre) and sapere, "knowledge" (< sapēre).
In light of these considerations, our conference proposes to explore the multiple interpretations of material and spiritual nourishment in Italian studies. Nourishment is, therefore, intended in the broadest possible sense: not limited to the area of Food Studies but in its many possible artistic, literary and historical iterations, with the intent of fostering flavoursome and fruitful dialogue among academics from diverse disciplines.
Co-Sponsors:
– GSAIS – Graduate Students' Association of Italian Studies
– Department of Italian Studies (University of Toronto)
– Emilio Goggio Chair in Italian Studies (University of Toronto)
– Culinaria Research Centre (University of Toronto Scarborough)
– Istituto Italiano di Cultura – Toronto
– Settimana della Cucina Italiana nel Mondo
Sponsors:
– CAIS – Canadian Association for Italian Studies
– Centre for Comparative Literature
– Centre for Renaissance & Reformation Studies
– Cinema Studies Institute
– Department of Spanish & Portuguese
– Faculty of Arts & Science – University of Toronto
– Munk School of Global Affairs & Public Policy – Centre for European, Russian, and Eurasian Studies
– PIMS – Pontifical Institute of Mediaeval Studies